Cheers to Barns: Calendar Launch at Youngblood Vineyard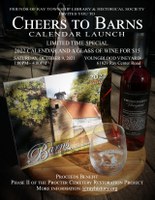 Friends of Ray Township Library & Historical Society 
Cheers to Barns: Calendar Launch at Youngblood Vineyard 
Saturday October 9, 2021, from 1:00 pm to 4:00 pm

The Friends of Ray Township Library & Historical Society has printed its 2022 calendar, "Barns of Ray, Romeo, & Washington" and welcomes everyone to raise a glass in celebration of its launch at Youngblood Vineyard, 61829 Ray Center Rd., Ray Township, MI 48096.

Packed with historic and present-day images of barns built over a hundred years ago to one built just three years ago, the 2022 calendar displays the beauty in the construction and design of a once necessary feature of the family farm.  
Join us on the veranda of the Youngblood family's home for a glass of their award-winning wine and take home a 2022 Calendar all for $15. Participants must be 21 years of age, but everyone is welcome to stop by and talk with our members about our projects. Proceeds benefit Phase II of the Procter Cemetery Restoration Project.  
Additional calendars will be available for $10 during the event and at the Ray Township Public Library and Township Offices.  
Please visit www.rayhistory.org or our Facebook page for more information.