At Ray Township Public Library, we believe that reading can create a sense of community. 
We have our own Book Clubs for Adults (The Society of Readers) and for Kids (10&Up Book Club).
Check our Calendar for upcoming meetings.
We also have several book club sets that you can check out and take home for your group or club.  These can be checked out by anyone in the Suburban Library Cooperative.  Ask us for more details.
Hatchet
By Gary Paulsen
After a plane crash, thirteen-year-old Brian spends fifty-four days in the Canadian wilderness, learning to survive with only the aid of a hatchet given him by his mother, and learning also to survive his parents' divorce.
Esperanza Rising
by Pam Muñoz Ryan
Esperanza and her mother are forced to leave their life of wealth and privilege in Mexico to go work in the labor camps of Southern California, where they must adapt to the harsh circumstances facing Mexican farm workers on the eve of the Great Depression.
StarGirl
by Jerry Spinelli
After 15 years of home schooling, Stargirl bursts into tenth grade in an explosion of color and a clatter of ukulele music, enchanting the Mica Student body.  But the delicate scales of popularity suddenly shift, and Stargirl is shunned for everything that makes her different.
The One and Only Ivan
by Katherine Applegate
When Ivan, a gorilla who has lived for years in a down-and-out circus-themed mall, meets Ruby, a baby elephant that has been added to the mall, he decides that he must find her a better life.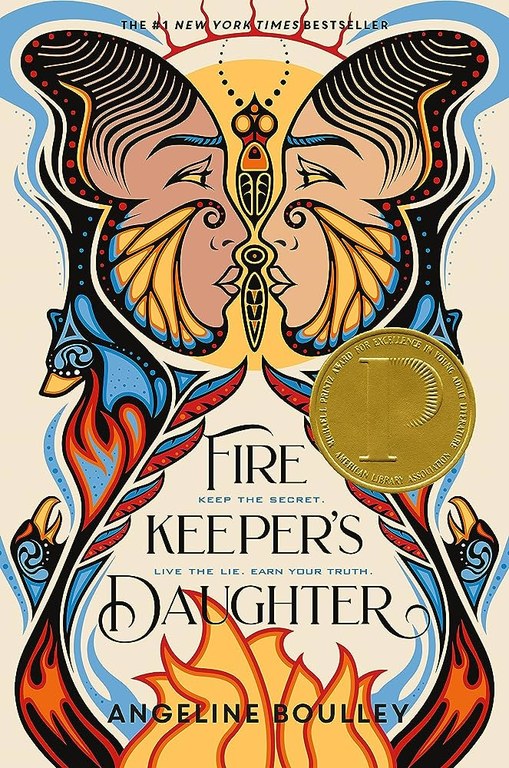 The FireKeeper's Daughter by Angeline Boulley
As a biracial, unenrolled tribal member and the product of a scandal, Daunis Fontaine has never quite fit in—both in her hometown and on the nearby Ojibwe reservation. When her family is struck by tragedy, Daunis puts her dreams on hold to care for her fragile mother.

After Daunis witnesses a shocking murder that thrusts her into a criminal investigation, she agrees to go undercover. But the deceptions—and deaths—keep piling up and soon the threat strikes too close to home. How far will she go to protect her community if it means tearing apart the only world she's ever known?
Provided to the Ray Library by the Michigan Humanities' Great Michigan Read.
The Dancing Girls
M.M. Chouinard
When Jennine Hammond is found dead in a hotel in the picture-perfect town Oakhurst, newly-promoted Detective Jo Fournier is thrown into a disturbing case. Who would murder this shy, loving wife and leave her body posed like a ballerina?
Read more/less

Jo wants to know why Jeanine's husband is so controlling about money, and where Jeanine"s wedding ring is, but before she and her team can get close to the truth, another woman is found strangled in a hotel, arms placed gracefully above her head like a dancer. While digging through old case files, Jo makes a terrifying link to a series of cold cases: each victim bears the same strangulation marks. But the FBI won't take Jo seriously, and if she disobeys direct orders by investigating the killings outside of her jurisdiction, it will mean the end of the career she's already sacrificed so much for, even her relationship. Just as Jo is beginning to lose hope, she finds messages on the victims' computers that make her question whether these small-town women were hiding big lies. Jo thinks this is the missing link, but she knows the murderer is moments away from selecting his next victim. Will it lead her to the most twisted killer of her career in time, or will another innocent life be lost?.
Her Daughter's Cry
M.M. Chouinard
After she is found stumbling in the woods, the police ran tests. The blood on Zoe's shirt isn't hers they say, it belongs to her messing daughter. But Zoe doesn't remember a daughter, the blow to her head has wiped her memory clean. Then the man claiming to be Zoe's husband turns up, is he someone she can trust?
Taken to the Grave
M.M. Chouinard
It's a sleepy morning in suburbia when a girl's body is discovered by a running trail in the town of Oakhurst. Local detective Jo is shocked to the core. Because the girl is the second innocent victim to turn up dead in three days. And just like the first, a tarot card has been left by the body.
Read more/less

The meaning of the card: betrayal. Jo soon uncovers a series of threatening messages targeting the girl and the first victim, her teacher. The primary suspect is a volatile student with an axe to grind for failing grades, and the frightened town is out for his blood. But the next day, a much-loved member of the community is found dead in her home, a tarot card in her mail. There's no clear motive to link her death to the others, and the message on the card this time is even stranger: domestic bliss. With the deaths so close together, Jo knows she's running out of time to crack the code and bring the killer to justice. And the pressure only gets worse with heart-breaking news about Jo's father forcing her to choose between helping her family heal or the victims' families get justice. Can Jo find the twisted murderer sending the town into a panic before another life is lost? Or this time, will the dangerous killer find her first?
The Other Mothers
M.M. Chouinard
It's a crisp spring morning when the small-town community around Briar Ridge Elementary School is shattered by devastating news. Bright and shy five-year-old Nicole has disappeared at recess.


Read more/less

Nicole's mother, Gia, is lost in her grief. On the same day her baby girl vanished, Gia found out she was pregnant with the sister Nicole had begged for. Gia is also devastated that her best friend Karen was supervising the playground when Nicole was taken. And when Nicole's body is discovered, Gia can't help but ask: why didn't Karen protect her little girl?

Someone knows what happened in school that day and Detective Jo Fournier is determined to find the truth. Jo's little nieces also attend Briar Ridge and she would cross mountains to keep them safe. As she starts to dig into the mothers' secrets, she begins to wonder if anyone is telling the truth. Gia's been hiding a part of herself for years and Jo can tell it's eating her apart. And Karen is definitely lying—but what is more important than finding the killer of her best friend's daughter?

As Gia and Karen struggle with their guilt, a teacher at Briar Ridge dies in what looks like a tragic accident. But with two deaths in such a short time, Jo knows better than that. In this school, where soccer moms flock to the gates with cookies for teachers, someone is willing to kill to keep a secret. The only question is who.

A completely addictive thriller that will not let you go until you turn the last heart-thumping page! Perfect for fans of Gregg Olsen, Christopher Greyson and Teresa Driscoll.
What the Eyes Don't See:
a story of crisis, resistance, and hope in an American City
Mona Hanna-Attisha
The story of a significant environmental disaster and tale of a relentless physician who stood up to power. Shortly after the city of Flint shifted the source of its water supply from Lake Huron to the Flint Fiver, citizens began complaining about the water but officials rebuffed them.
Read more/less

Dr. Mona Hanna-Attisha, a pediatrician at the city's public hospital, had no reason to be concerned about the water and encouraged the parents and children in her care to continue drinking it. But a conversation at a cookout with an old friend, leaked documents from a rogue environmental inspector, and the activism of a concerned mother raised red flags about lead -- a neurotoxin whose irreversible effects fall most heavily on children. This book is the story of how Dr. Mona -- accompanied by a team of researchers, parents, friends, and community leaders -- proved that Flint's kids were exposed to lead and then fought her own government and a brutal backlash to expose that truth to the world. At the center of the story is Dr. Mona herself -- an immigrant, doctor, scientist, and mother whose family's activist roots inspired her pursuit of justice..
Women of Copper Country
Mary Doria Russell
In July 1913, twenty-five-year-old Annie Clements has seen enough of the world to know that it's unfair. She's spent her whole life in the mining town of Calumet, Michigan, where men risk their lives for meager salaries—and have barely enough to put food on the table for their families.
Read more/less

The women labor in the houses of the elite, and send their husbands and sons deep underground each day, dreading the fateful call of the company man telling them their loved ones aren't coming home. So as Annie struggles to improve the future of her town, her husband becomes increasingly frustrated with her growing independence. She faces the threat of prison while also discovering a forbidden love. On her fierce quest for justice, Annie will see just how much she is willing to sacrifice for the families of Calumet.
Provided to the Ray Library by the Michigan Humanities' Great Michigan Read.