CONTESTS! March Is Reading Month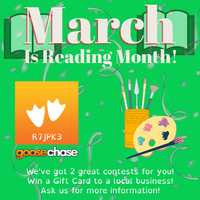 MARCH IS READING MONTH! We have 2 fun contests for you to get you excited about reading and books!
First up is our GooseChase Game! It's open all month long. GooseChase is an app that allows you to compete in a Photo/Video Scavenger Hunt! 20 different challenges await you. When you join you'll be divided into 3 teams. One team will win gift cards for every member of their team! You get to choose between, Romeo Theatre, Squirrelled Away Books, American Gymnastics, or your favorite locally owned place for fun! Download Goosechase in the app store or google play and use GAME CODE: R7JPK3 PASSWORD: lovemylibrary
The Second is a Draw your favorite book cover contest. Choose your favorite book and recreate the cover! We will choose winners in 3 Age Groups: 2-9, 10-18, and Adult. Submit your drawing in person to the library or electronically to
Mary@RayLibrary.org
Include, your name, your book title, and your age.
We hope you're as excited and in love with books and reading as we are.
Now Let's have fun and win some prizes!