Crochet Class - Easy Peasy Slippers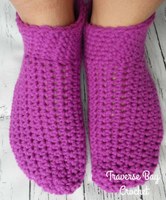 Join us on zoom on Monday April 5 at 6pm for Crochet with Laura.  We are sold out for take and make supplies, but with your own supplies, you can join us via zoom.  Register here. 
We have a printable of the Crochet Slipper pattern and instructions available for anyone to use, it was a free pattern online.  
We look forward to crafting with you!