LTC Connecting in a Digital World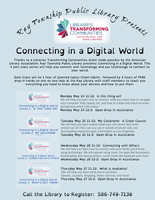 Classes are Scheduled!  
Thanks to a Libraries Transforming Communities Grant made possible by the American Library Association, Ray Township Public Library presents: Connecting in a Digital World. This 4 part class series will help you connect with technology and use technology to connect to your world.
Each Class will be 1 hour of planned topics (11am-12pm) , followed by 2 hours of FREE drop-in hands on one on one help at the Ray Library with staff members to teach you everything you need to know about your devices and how to use them.