On This Day in History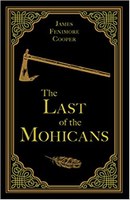 "The Last of the Mohicans" is published On February 4, 1826,
The Last of the Mohicans
by James Fenimore Cooper is published. One of the earliest distinctive American novels, the book is the second of the five-novel series called the "Leatherstocking Tales."
Cooper was born in 1789 in New Jersey and moved the following year to the frontier in upstate New York, where his father founded frontier-town Coopersville. Cooper attended Yale but joined the Navy after he was expelled for a prank. When Cooper was about 20, his father died, and he became financially independent. Having drifted for a decade, Cooper began writing a novel after his wife challenged him to write something better than he was reading at the moment. His first novel, Precaution, modeled on Jane Austen, was not successful, but his second, The Spy, influenced by the popular writings of Sir Walter Scott, became a bestseller, making Cooper the first major American novelist. The story was set during the American Revolution and featured George Washington as a character.
He continued to write about the American frontier in his third book, The Pioneer, which featured backcountry scout Natty Bumppo, known in this book as "Leather-stocking." The character, representing goodness, purity, and simplicity, became tremendously popular, and reappeared, by popular demand, in five more novels, known collectively as the "Leather-stocking Tales." The second book in the series, The Last of the Mohicans, is still widely read today. The five books span Bumppo's life, from coming of age through approaching death.