Science Kits for Public Libraries Grant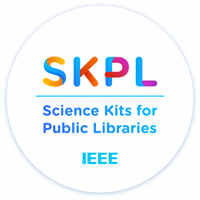 We are so excited to announce that we have been selected by
IEEE Region 4
to receive the
Science Kits for Public Libraries
Grant! We will be adding $2000 worth of circulating science kits to our small but mighty collection. Approximately 15 Exploration Station Traveling Packs will be added to our library over the next 12 months. The first traveling pack will be MICROSCOPIC EXPLORATION. It will include a Microscope with Camera attachment so you can look at slides up close on your computer and record videos too, prepared slides, microscope activities, 2 books related to microscopic investigations, and a QR Code that will link back to additional resources on our website.
This is first kit should be available by Mid July, just in time to check out during our Summer Reading Program. Other kits may include:
Simple Machines
Weather
Circuitry
Phlebotomy
Bugs
Butterflies
Problem Solving
Coding
Dissection
Thank you IEEE and SKPL for your support.