65+ Covid Vaccines at Richmond Lenox EMS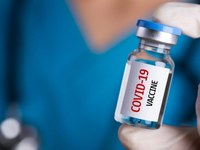 COVID-19 Drive Thru Vaccines age 65 and over only:
SMART bus is running a registration call center to sign up seniors in Macomb County to be placed on a WAITING LIST for vaccine appointments.  This list provides initial information including contact info to the county, who will then notify seniors when appointments become available.  This program also focuses on ensuring anyone who needs a ride to get to/from the vaccination site has one through SMART, free of charge.  Only senior citizens 65 and older who are residents of Macomb County are eligible for vaccination at the Drive-Thru site.
Vaccines are provided by appointment only, the vaccines are being provided at Richmond Lenox EMS headquarters on 32 Mile Rd, BY APPOINTMENT ONLY.  The call-in registration process will collect four pieces of information, which is provided to Macomb County for the waitlist.  You will be asked to provide:  First and Last name, Date of Birth, Address, and Phone Number.  

Call Center Hours:  Monday thru Friday 3pm-7pm, Saturday 8am-Noon, Sunday 9am-noon
Or you can register online at www.smartbus.org/macombvaccine